How to get
FFL in Illinois (IL)

?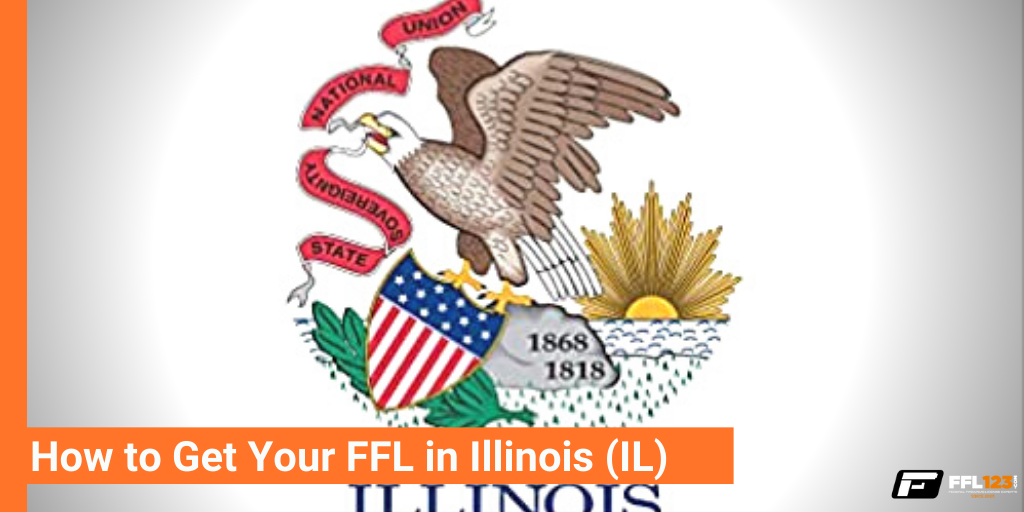 Do you want to know how to get your Illinois FFL? Have you been intimidated by the ATF paperwork and restrictive state regulations and requirements designed to make selling guns hard in Illinois? Don't worry. Not only is it possible to get an Illinois FFL, we'll show you a few basic requirements on how to get one and what you need to do to get started! Are you overwhelmed by the seemingly heavy-handed government regulations and confusing laws and rules about being an FFL in Illinois? Don't worry, you aren't alone!
As of June 2021, the ATF reported that there are a total of 4,444 FFLs in Illinois! Illinois is a tricky state, with some places being gun-friendly and others being rabidly anti-gun. That means you have to tread carefully when getting your Illinois FFL and you need to make sure you've got all your ducks in a row in order to get into – and stay in – business.
That's where we come in. FFL123 is here to make sure you can get that Illinois FFL you want and deserve!
Illinois Home Based FFL
Is it possible to still be an Illinois home based FFL? Well, yes but as you've seen things are now very expensive and difficult. Because Illinois FFL's now have to have cameras on their premises, use very specific software, and are subject to unannounced local and state police inspections, having an Illinois home based FFL can be really uncomfortable for some.
Only you can decide if you want to try and open a home based FFL under these circumstances. Illinois FFL laws now basically open your home up to warrantless and unannounced inspections by entities who are often openly hostile to your business and civil rights. They will be looking for any excuse to shut you down, and to penalize you.
We tell you this now to be frank and upfront. Many of our customers come to us looking to start a nice small home based FFL and we love to see another "kitchen table" FFL open up. But it is going to be tough in Illinois.
If you want to start an Illinois home-based FFL we suggest a few simple things to protect your privacy and rights.
Do your business in your garage or a detached building. In other words, keep your business out of parts of your residence whenever possible.
Carefully comply with the law concerning cameras and other security measures.
Consult with a local firearms attorney to learn how to best protect the privacy of your family and home apart from where you conduct business.
Don't get discouraged by oppressive laws.
As you can see there are some real hurdles to overcome with getting an Illinois FFL, especially if you want to be a home based FFL in Illinois. But not to worry…
Additional Business Resources
Illinois Department of Revenue: The website for the Illinois Department of Revenue will answer most of the questions you may have about starting a business in the state.
Illinois State Police Website (FDLC Page): This page from the Illinois Police Department lists all requirements that you will have to meet in order to receive your FDLC. It includes an FAQ page, lists all required documentation, shows what forms you will need to fill out, and more! Between our course and this page, you should be able to complete everything with no problem!
430 ILCS 68: The Illinois "Combating Illegal Gun Trafficking Act" details the requirements you must meet in order to become a legal gun dealer.
How to Become a Federal Firearms Licensee in 10 Easy Steps: This is the ATF's own guide to getting your FFL.
US Code § 923: Federal US Code § 923 covers regulations for the import, manufacture, and dealing of firearms and ammunition. This is the law that requires firearms businesses to get an FFL.
US CFR § 478.47 – Issuance of License: This explains how a Federal Firearms License is issued, including who must assign the license number. It requires the ATF to qualify applicants based on a predetermined list of requirements and to issue Federal Firearms Licenses. If a correct FFL application has been submitted, the Chief of the Federal Firearms Licensing Center must issue the license and assign a serial number to the licensee.
Gun Control Act (GCA): The GCA of 1968 established stricter laws on the firearms industry than were already present in the NFA of 1934. This included new regulations regarding firearms offenses, firearms/ammunition sales to "prohibited persons," and federal jurisdiction for "destructive devices" (bombs, grenades, mines, etc.) These are just some of the things that were created with the GCA.
The FFL123 Way
Anyone who can fill out paperwork can apply for an Illinois FFL, but there is more to applying than just filling out forms. In a state like Illinois, you need expert assistance in navigating the brutal anti-gun minefield that is local and state regulation of gun dealers. FFL123 offers our customers exactly that kind of assistance. Our team of industry insiders and legal experts will personally work with you to not only understand the Federal paperwork, but also the increasingly difficult and restrictive state and local regulations you have to comply with.
FFL123 customers enjoy the benefits of decades of industry experience getting our customers the FFL they want and deserve. We will assist you on every step of the way, from choosing the FFL that is right for your business plans, to dealing with restrictive laws.
Are you ready to get your Illinois FFL? With FFL123's proven guides, you are on your way to getting your FFL the moment you purchase them. Rest easy knowing our expert legal and gun industry insiders are here, on your side to help you with any problems you might encounter with your FFL application process. No other FFL application guide comes with our level of lifetime support and assistance.
Don't lose out on the chance to get an FFL. Remember, FFL's often are able to access guns that are otherwise inaccessible during gun bans, and can turn good profits with today's world of online sales and transfers. Let FFL123 show you how to get your Illinois FFL today!
The FFL123 Advantage
Truth be told, we'd like a world where any law-abiding American could easily get into the gun business. But we don't live in that world. We know this, and so does our staff of industry insiders and legal experts. FFL123 has assembled a staff that is dedicated to helping our customers cut through the red tape of getting an FFL.
When you purchase an FFL123 guide, you aren't just buying a comprehensive step-by-step guide to applying for an FFL. You are also getting decades of combined industry and legal experience that is there when you need it the most.
Every FFL123 customer is entitled to direct, one-on-one customer support for their specific problems in getting an FFL. When you do business with FFL123, we back you up until you get your FFL. In fact, we go beyond that, and keep backing you up for as long as you are in business! Our customers get ongoing support for everything from finding suppliers to keeping abreast with the latest changes in gun laws and regulations.
Start Today!
With just a couple of easy clicks, you can start your journey to your Illinois FFL today. Rest easy knowing that you aren't cast adrift with confusing federal and state paperwork, or left alone to figure out how to fill out and file seemingly conflicting forms. FFL123 is here for you along your entire journey from choosing the FFL that's right for you, to your first day of business and everything in between.
Are you ready to get your Illinois FFL? Choose the guide that is right for you. Not sure which one you need? No problem! Just ask and we'll help you with that too. What are you waiting for? The sooner you start, the sooner you can enjoy all the benefits of an FFL!
Illinois Gun dealers
Find the latest list of Illinois gun dealer's name, email id, phone number and address. You can easily contact the gun dealers. Click here to see class 3 gun dealers in Illinois.