Facebook's Firearm Activist Chuck Rossi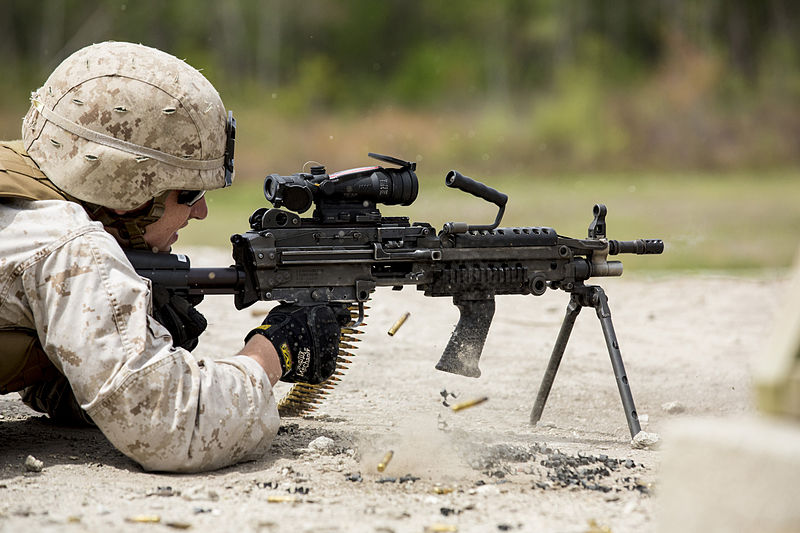 In January, 2016, Facebook's executive leadership decided that it would no longer maintain its role simply as a social media platform. Instead, they decided that due to the lack of government intervention in regards to private firearms sales, it was their duty to do something about it. They released an announcement that posts promoting the sale of firearms or ammunition will be taken down. In the subsequent weeks, countless groups were annihilated by these new regulations.
It didn't matter if the groups were actually facilitating private firearm sales or not. Simply displaying a firearm could be enough to get content booted from Facebook. FFL123 experienced the backlash of this movement as well, even though we were only promoting a book rather than a firearm. Surprisingly, not everyone in Facebook is on board with how they have handled this situation. Chuck Rossi, Facebook's Director of Engineering, has been the unofficial champion of gun rights within the company.
I want to be clear, Facebook is a business. Yes, we all might have logged hours on the website, but at the end of the day, it does not belong to anyone other than the Facebook shareholders. Would you be okay with others telling you how to run your business? This article isn't intended to complain about Facebook's policies; they have every right to make them. This is only intended to recognize that there is someone on the inside who is willing to stand up and be the voice of those who are in compliance.
Facebook's Over-Zealous Approach to Firearms
Back to the initial issue, traditional media outlets have long demonized firearms due to the perceived prevalence of gun violence within our society. The executives at Facebook took a personal issue with this society-level problem. When the United States government decided to stay away from legislation that toed the line of unconstitutionality, Facebook decided to take a strong stance in the direction that they believed was right.
In their mind, by limiting the access of firearms to individuals, it would make the country safer and possibly prevent the wrong people from obtaining weapons. Regardless of your beliefs, it is a fact that there are a select few people who use firearms as tools of evil and destruction. The difference between us and Facebook's Executives, is the fact that we ascribe the responsibilities of these heinous acts to the people who perpetuate them, not the item itself. Because of this difference in perception, we don't think firearms should be banned from law-abiding individuals.  
At this point, most of us have accepted Facebook's policies on prohibiting the sale of firearms. The problem now lies in how they perceive even the semblance of firearms as something to ban. Here is an example of an ad that we tried to run.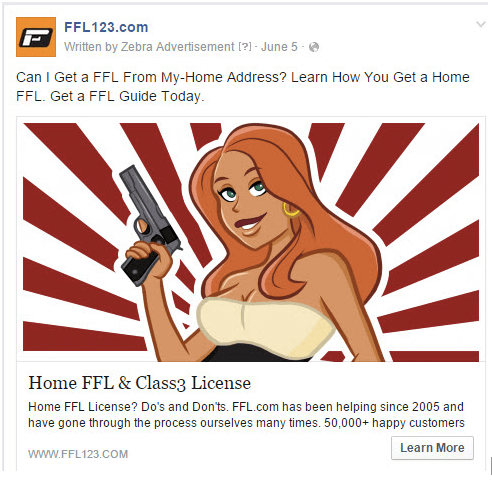 On September 21st 2015, Facebook took the above ad and banned it from appearing on their site. If you look closely, the only firearm that is present is a little cartoon pistol. It is important to note that the last paragraph of Facebook's policy states:
"Keep in mind that posts about firearms in general are allowed on Facebook. This includes discussions about sales in stores or by online retailers, posts advocating for changes to firearm regulation or anything else that follows Facebook's Community Standards and Terms."
According to this policy, our post and everything about FFL123 should be fair game. We are not the only one who's been affected. Countless groups dedicated to competition shooting, hunting, or just a simple gathering of enthusiasts have been shut down by Facebook's policy, despite not directly violating their rules. It took almost a year and a half in order to get everything in order, and it wouldn't have been possible without the help of Chuck Rossi.  
Chuck Rossi
Like we said, Chuck Rossi the Director of Engineering at Facebook. Even though he works within a company that has taken a hard stance against the 2nd Amendment, Chuck is an accomplished competetion marksman and a certified firearms trainer. While he does support the spirit of Facebook's policy, he does not believe that Facebook should unilaterally ban all things related to guns, especially when their own regulation allows discussion.
He has become the go-to person in order to get a banned post allowed or a Facebook community related to firearms reinstated. He is always polite and strives to provide incredible information even if it is hard to hear. On January 31st, 2017, Mr. Rossi finally let me know that our content had been approved to appear on Facebook after more than a year of battling to show how we are in accordance with the Terms that they had put in place.
Parting Thoughts
We respect that Facebook has the right to manage their website in the way that they deem fit. There are other websites that allow the sale of firearms. We just want to be able to talk about our interests in place that says that they allow it, without the risk of being persecuted by over-zealous outsiders. Chuck Rossi has helped countless people rejoin their Facebook communities and if it were not for him, we would still be on Facebook's ban list. For that, we thank you.
FFL Insider Report

Free Report by

Brandon L Maddox

FFL industry expert

Interactive Map

Endorsed by

The Gun Digest has received many inquiries related to your product offering... Brandon, you have a great product that works as advertised and provides an excellent value and service...you will soon see a write-up on my editor's colmn reflecting this feedback.

Senior Editor, Click here to read the full review Click here to read the full review

Popular Blog Articles

The Mossberg Shockwave is not a shotgun technically, but it revitalized the shotgun industry

If there is anyone out there, who has caused as much grief fo

The Mossberg Shockwave has both revived and created an entirely new portion of the firearms