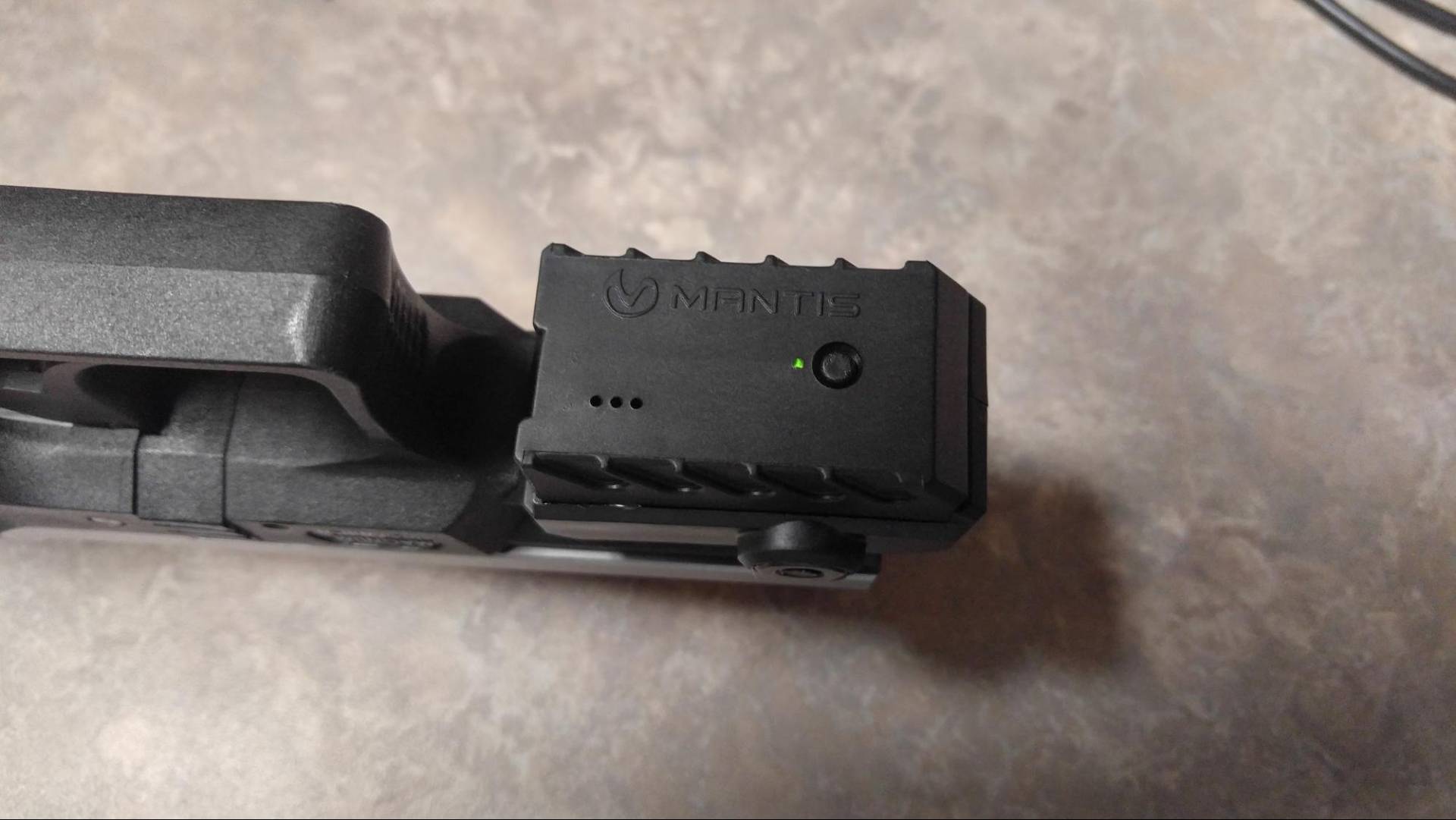 It's nice to finally see the tech industry and the gun industry merge together to benefit gun owners. The Mantis X program is likely the most professional attempt I've seen to blend tech and firearms without costing an arm and a leg. The Mantis X is a consumer grade app and electronic device that measures just how well you are pulling that trigger. It's designed to function with dry fire, live shooting, and even Co2 powered air guns. 
The Mantis X is a small, but tough electronic device designed to fit on the picatinny rail or any gun. If your gun does not have a pic rail Mantis also sells adapters to fit the product your gun. The purpose of the system is track how much your barrel moves while dry firing. The free App (Available for Droid and iOS) connects to the device and then allows you to track how you pull the trigger, and move the barrel during live or dry fire. 
What's in the Box
The first thing you notice is the creators of the Mantis X are serious about protecting their gadget. It comes packaged in what can best be described as a 'cute' mini Pelican box. Inside the box the device sits well protected by a foam cut out. You also get instructions and a USB charging cord for the device.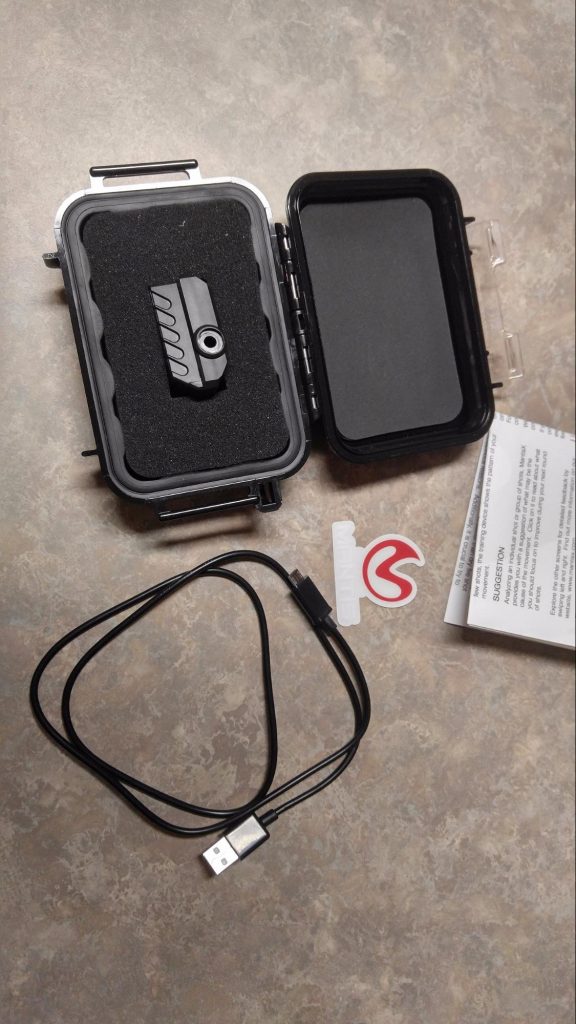 My first thought was it's very light, which is good. You do not want to toss the weight or your firearm off after the gadget is attached. It weighs just a hair over an ounce and it's only 2 inches long.  Attaching it is simple, remove screw, fit over rail, reinsert screw. Nothing to it. The device has a single solitary button that activates it, and allows it to connect to the Mantis X application.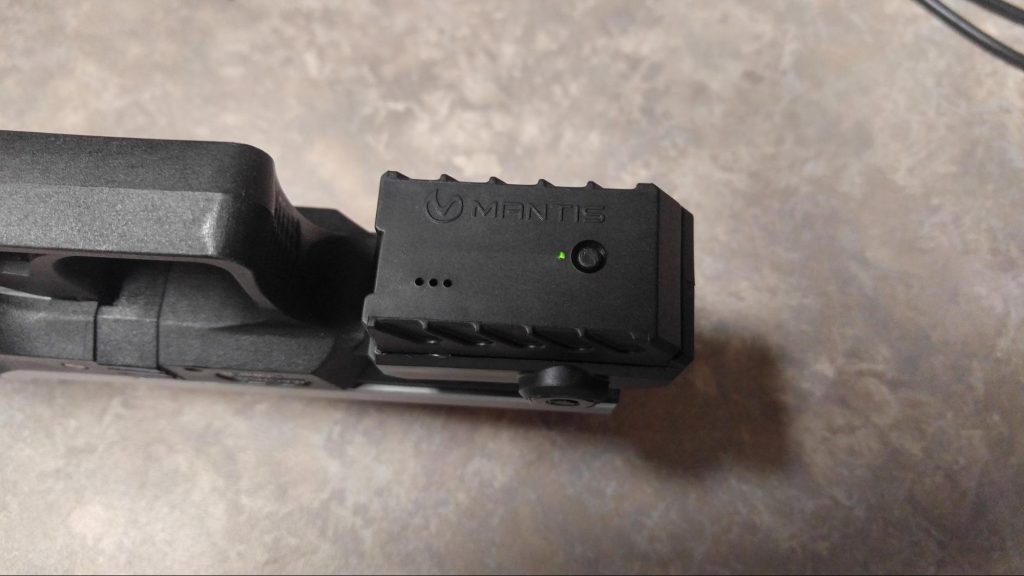 Getting it up and Running
The app is very clean, and very easy to use. The device connects in seconds and gives you a short tutorial on how everything works. You can select your gun, and set up a profile for it. You also need to input a few things about yourself, like your dominant hand, where the device is mounted, and the position it's mounted.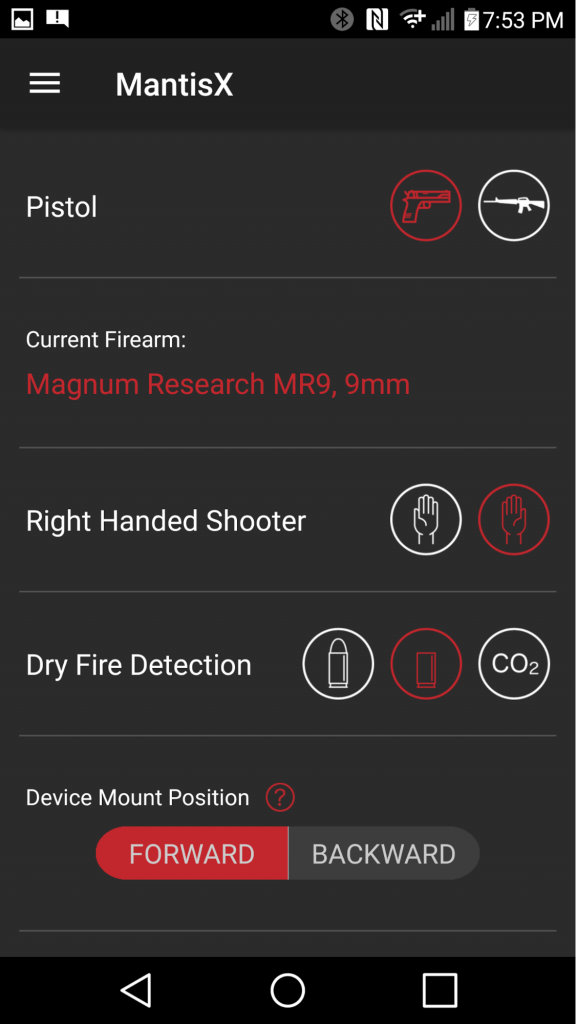 You can also set it to dry fire, live fire, and airgun modes.  
The overall purpose of the device is to judge any and all movement you make when you pull the trigger, assign a score, and tell you what you are doing wrong. So if you use too much trigger finger it will let you know, and assign you a score between 1 and 100.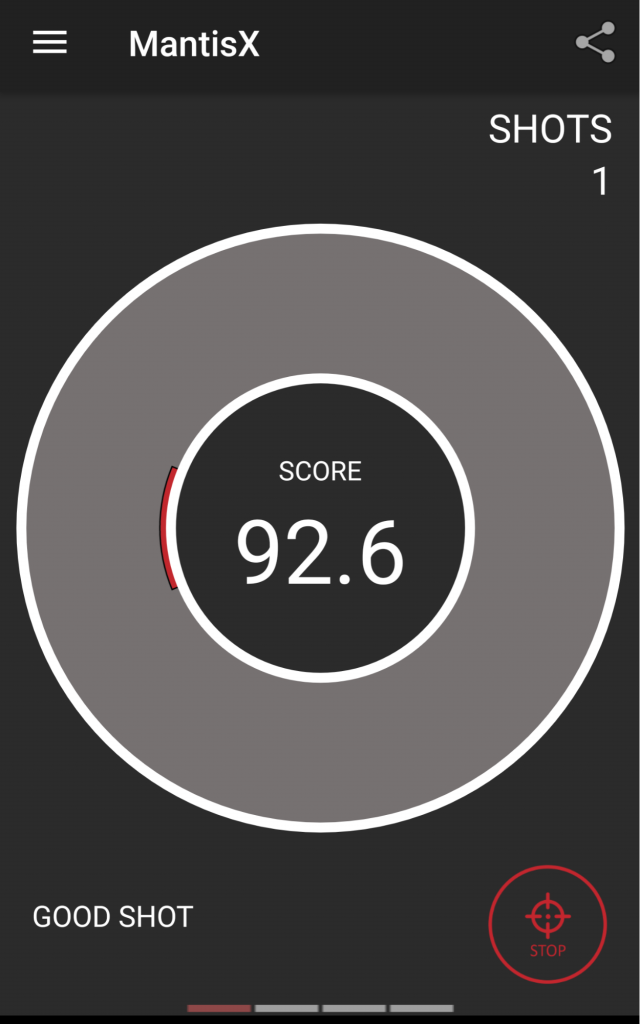 The more movement the lower the score. If you're not sure what phrases like thumbing and pushing mean you can actually look them up on the app and see what they mean and how to correct them.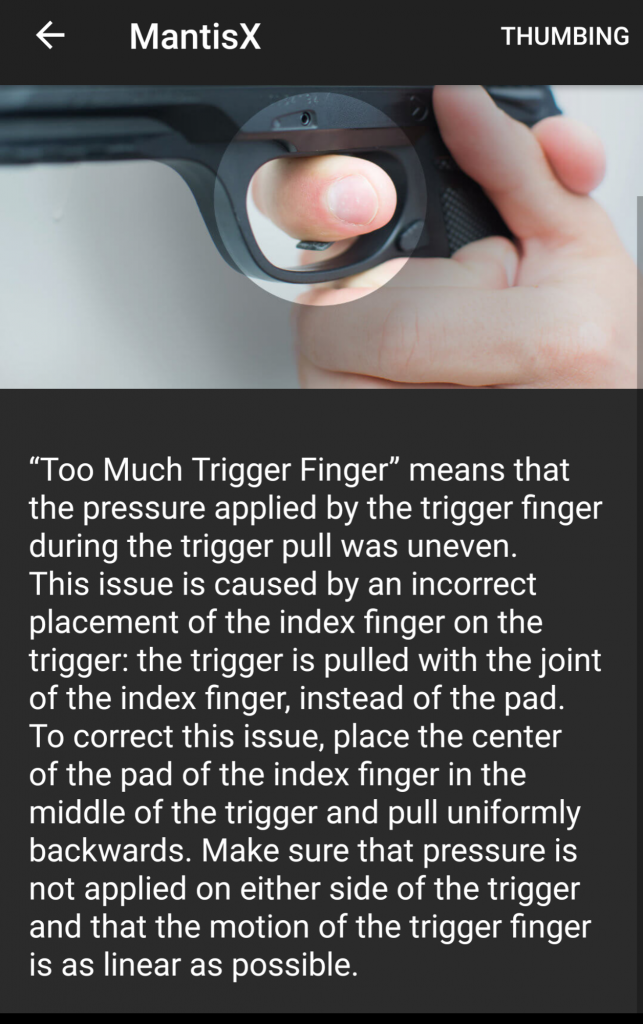 There's also a ring around your score that will turn red based in the direction you're barrel moves when you fire. It shows different degrees of movement based on the severity of the movement. It's the most modern version of old school correction targets. 
Does it Work
The best way to see if the diagnoses are right is to create controlled situations where I knew I was pulling the trigger the wrong way. I purposefully used too much and too little trigger finger, I heeled it, tightened my fingers, and flinched. The Mantis X correctly diagnosed every failure correctly.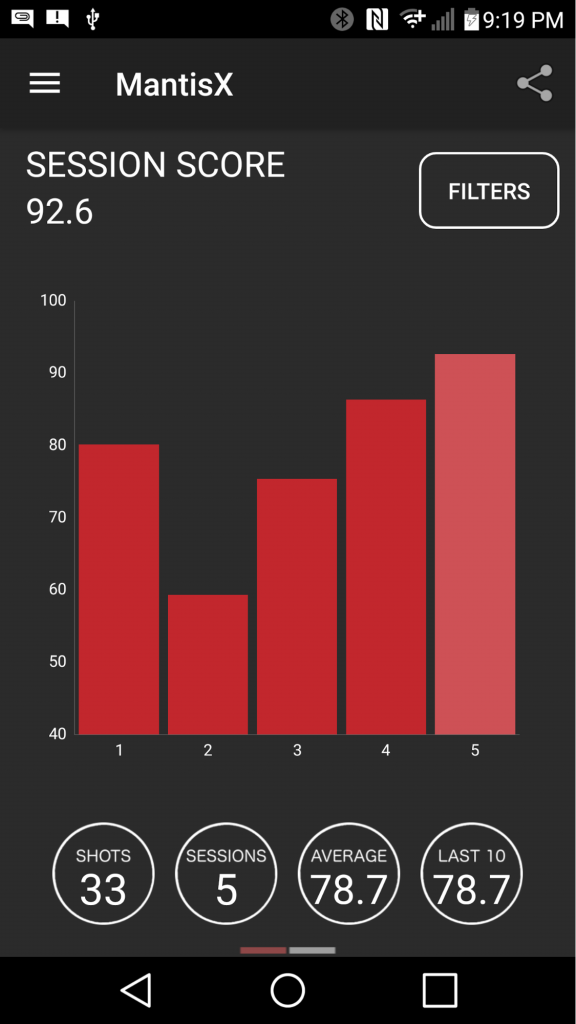 Color me impressed. Not only does it track your failures and successes that day, but throughout the entire time you use the Mantis X. It tracks your trends and failures and graphs them in several different ways. It tracks your failures by percentages, and tracks by bar graph every trigger pull.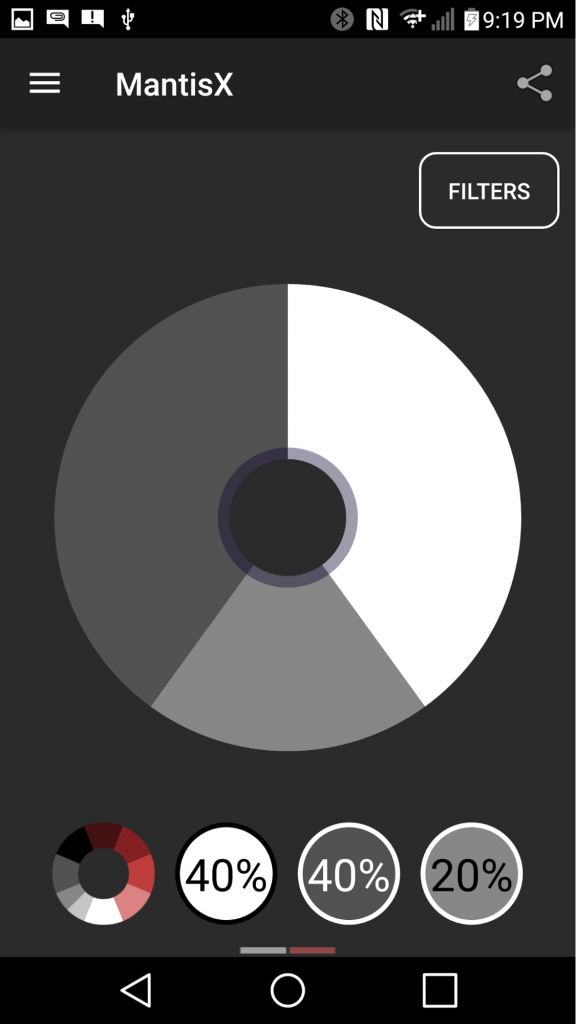 Downsides
There are a few downsides to this system, two are tied to the sensors sensitivity. First there is no way to manually adjust the sensitivity. I think if there was a manual sensitivity control the next downside would exist. 
Sometimes when conducting drills that involve reloading, or clearing failure the sensor will detect these motions as shots. This can mess up your ability to measure success and failure over long periods of time with the graphs. It's just kind of annoying. The good news is that this app based device is being updated all the time to 
The third downside is it won't work in holsters, which makes it difficult to train for that perfect draw and fire shot. There maybe be some light bearing holster that fit, but the few I have do not. 
Dry Fire Academy
Overall this is a fantastic device, and the application is stable, clean, and well designed. It's perfect for shooters looking to sharpen their skills, and even better for instructors trying to diagnose issues with shooters. The Mantis X is likely the future of firearms training, and is mixing tech with firearms seamlessly. 
FFL Insider Report

Free Report by

Brandon L Maddox

FFL industry expert

Interactive Map

Endorsed by

The Gun Digest has received many inquiries related to your product offering... Brandon, you have a great product that works as advertised and provides an excellent value and service...you will soon see a write-up on my editor's colmn reflecting this feedback.

Senior Editor, Click here to read the full review Click here to read the full review

Popular Blog Articles

The Mossberg Shockwave is not a shotgun technically, but it revitalized the shotgun industry

If there is anyone out there, who has caused as much grief fo

The Mossberg Shockwave has both revived and created an entirely new portion of the firearms