The year 2017 was the year of the 14-inch barreled, totally not a shotgun, 12 gauge pump action firearm. Mossberg unveiled the Shockwave at SHOT Show 2017 and shortly after Remington released the TAC 14. These two "not a shotguns" became extremely popular and their popularity has led to more and more "not a shotgun firearms." This year at SHOT we saw 20-gauge models, hardwood models, models from Turkey and beyond.
What should also be known is that 12-gauge firearms aren't the only firearms out there. This year we saw the Franklin Armory Reformation, an AR pattern firearm with an 11.5-inch barrel, and a stock. This firearm is not a rifle and is not a short-barreled rifle. The Reformation defied the definition of a rifle by getting rid of traditional circular rifling and using straight lands and grooves.

Franklin Armory also hit us with the XO 26 a few years ago. A AR 15 without a stock and an 11.5-inch barrel with a mounted foregrip. Typically, an AR with a barrel shorter than 16 inches and missing a stock would be considered a pistol this would make a vertical foregrip a big no-no. However, the XO 26 was not an AR pistol, but an AR firearm.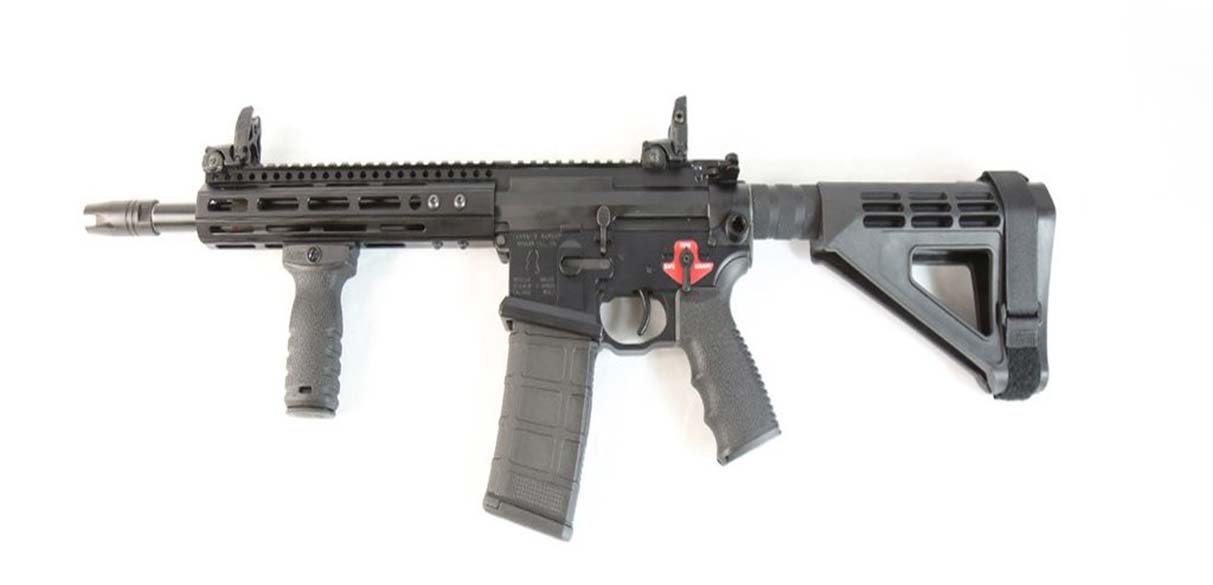 The XO 26
The trend of these NFA defying firearms isn't going anywhere anytime soon, and as an FFL, (or future FFL) it's imperative you understand the laws regulating these 'firearms.'
What Makes an "Other Firearm"
An Other Firearm is a gun that's doesn't meet the lawful definitions of a particular class of firearms and is not concealable. That's the closest we have to real definition of these guns.
You and I know that with enough effort anything is concealable. The law governs a weapon concealable if its shorter than 26 inches. If a firearm dips below an overall length of 26 inches, it could become an NFA weapon.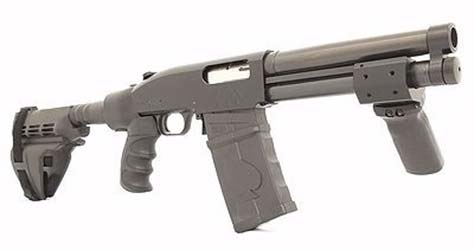 8.5 inch barrel…26 inches OAL
For example, if you equip a traditional 90-degree pistol grip on a Shockwave you've created an illegal AOW. That Raptor grip is what adds the extra inches needed to get over 26 inches.
So for an 'other firearm' not to be an NFA weapon it does need to be over 26 inches long. There are no barrel length requirements though. It's all based on overall length only.
An AOW aka, any other weapon, is an NFA category for firearms who do not fall into a specific class. AOWs are a broad class, and you could do an entire article on what's considered an AOW. Other Firearms can walk very close to the NFA line.
It's important you know the ins and outs of these firearms. When they come in from a factory they need to stay in their original configuration. It's also helpful to advise your customers of the restrictions on these guns.
For something like the Reformation, you can't attach a standard 11.5-inch barrel upper to the gun. Sure it's over the necessary 26 inches, but now it's an SBR due to the use of traditional rifling in a standard upper.
The XO 26 can have a forward grip, but as soon as it dips below 26 inches that forward grip needs to be gone. If not, it's an AOW.
The 4473
We all know some customers can have trouble filling out the 4473, but when it comes to these firearms you may have your own issues. Because they are relatively new the experience simply isn't out there. When it comes to these guns and the 4473 the two questions you have to watch out for are Number 16 and Number 27.
Accuracy matters on a 4473 and if you want to keep things from getting messy during an audit its best to be accurate.
Number 16 offers you three options.
Hand Gun
Long Gun
Other Firearm.
Looking at the title of the article you can probably guess which box we are checking. You want to check Other Firearm.
Question Number 27 can be a little trickier. It's not as easy as putting a check in the box. You have to fill out the Type. The general consensus has been for 12-gauge firearms you write 'pistol grip firearm'.
For your AR types, you simply put AR type firearm.
You want to avoid using handgun, or rifle to describe them in any way. They are not handguns or rifles at all. They are simply firearms.
State Laws
Lastly, you need to ensure you understand your own state laws regarding these guns. Some states may not recognize your Mossberg as a firearm, but they may classify them as Short barreled shotguns. Even the great state of Texas had to come together and pass a new definition to make the Shockwave and Tac 14 legal.
State laws often vary from Federal Laws and you should certainly do a spot of research into your state before taking pre-orders, making promises, or advertisements. Sometimes the fun police ar estate, and not Feds.
These Other firearms aren't going anywhere anytime soon. In fact, they are only getting more popular. The Reformation was this year's big hit, and last years was the Shockwave, what will come next? We'll have to wait and see, but I'll willing to bet this 'other' class of firearms is going to just keep growing.
FFL Insider Report

Free Report by

Brandon L Maddox

FFL industry expert

Interactive Map

Endorsed by

The Gun Digest has received many inquiries related to your product offering... Brandon, you have a great product that works as advertised and provides an excellent value and service...you will soon see a write-up on my editor's colmn reflecting this feedback.

Senior Editor, Click here to read the full review Click here to read the full review

Popular Blog Articles

The Mossberg Shockwave is not a shotgun technically, but it revitalized the shotgun industry

If there is anyone out there, who has caused as much grief fo

The Mossberg Shockwave has both revived and created an entirely new portion of the firearms