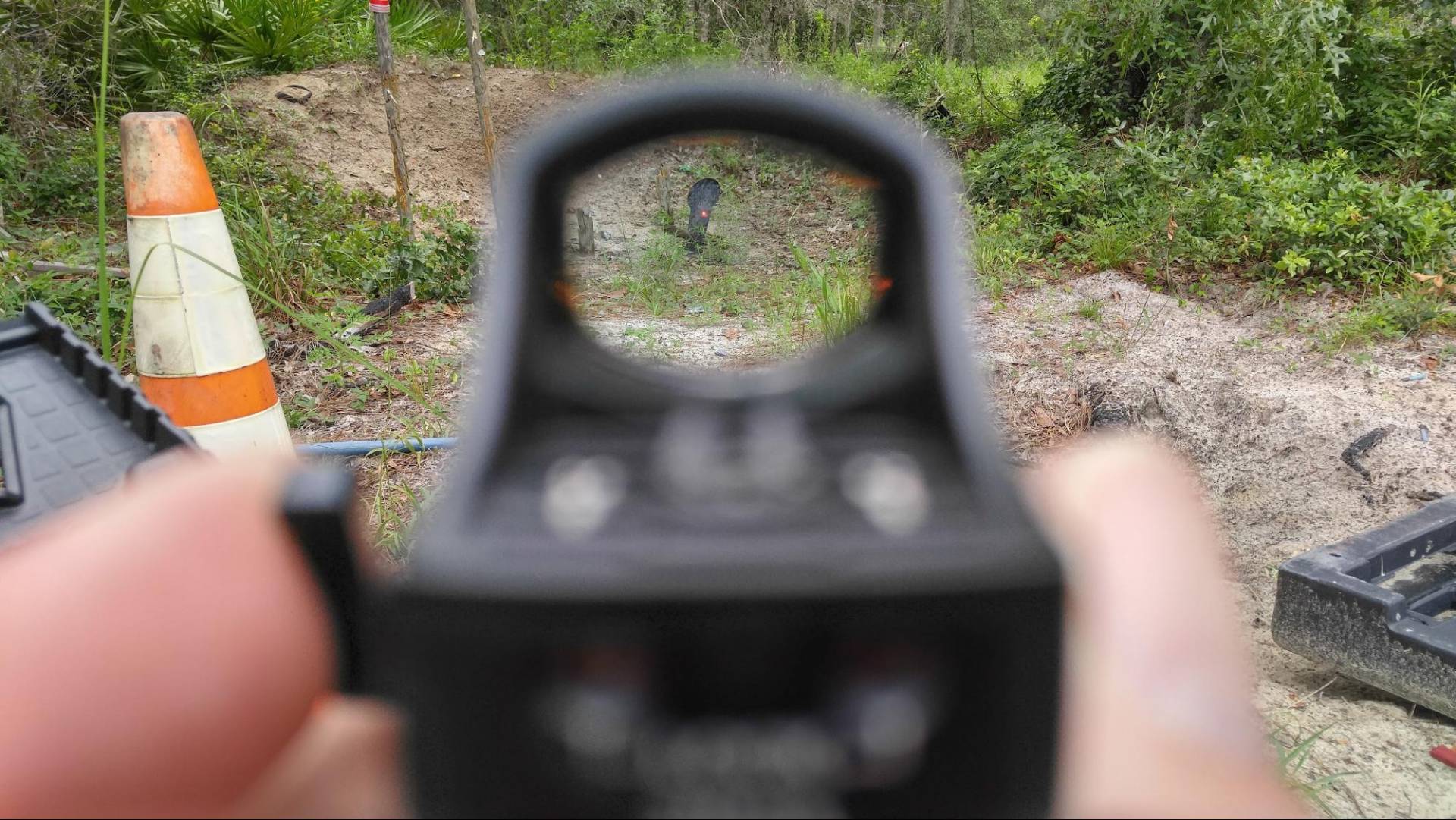 First Impressions

The Meopta Sports Optics Meosight 3 is my newest, and favorite, optic to join the family. It's admittedly my first miniature red dot optic and has made me see the light. The tiny red light. The Meosight 3 is a teeny tiny red dot that's made a big difference in my shooting ability. This little fella weighs 35 grams! That's 1.23 ounces. That's like two good sips of water.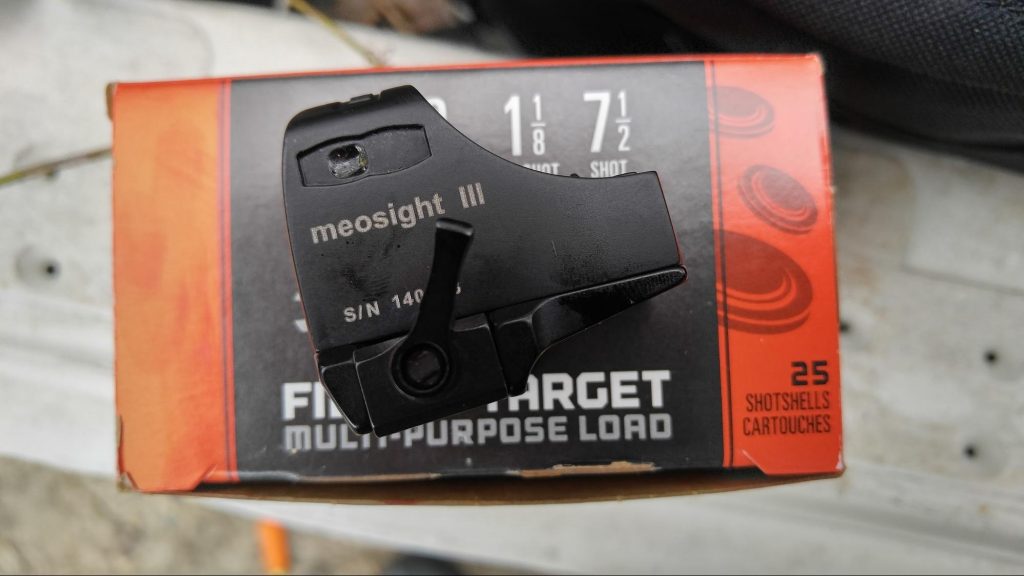 There are a variety of mounts available for the Meopta Meosight, and it can directly attach to a pistol, or you can make use of a QD Picatinny mount. That's what I've been using and it's a rock solid fit. It's easy on and easy off.

On and Off
The system has a manual and automatic setting. In manual mode, you can cycle through 8 different brightness settings to find what works for you. You do use a single button to cycle, so if you pass your desired setting you have to restart and go through all the settings again. This is the biggest downside to this optic.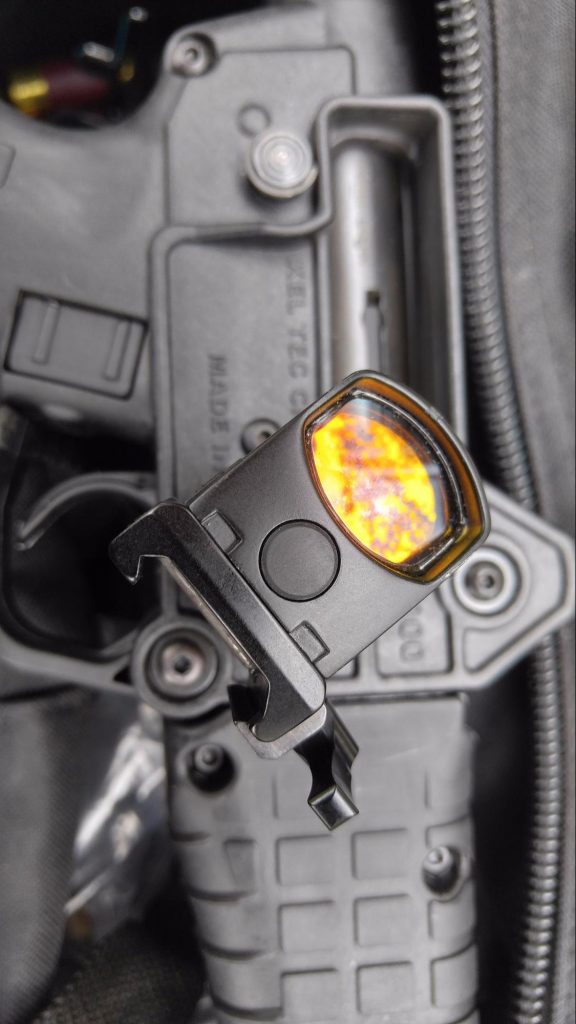 The automatic setting is actually pretty intuitive. To activate it you hold the on button for a few seconds. The red dot will dim and brighten as the ambient light changes. I found this to be my preferred setting.

The Meopta Meosight 3 uses a standard CR 2032 and delivers up to 1,000 hours of battery life. The battery compartment is a side mounted slot. It's a really nice touch not having to remove the optic to install a battery. This ensures you never risk losing zero by placing the optic on the wrong rail.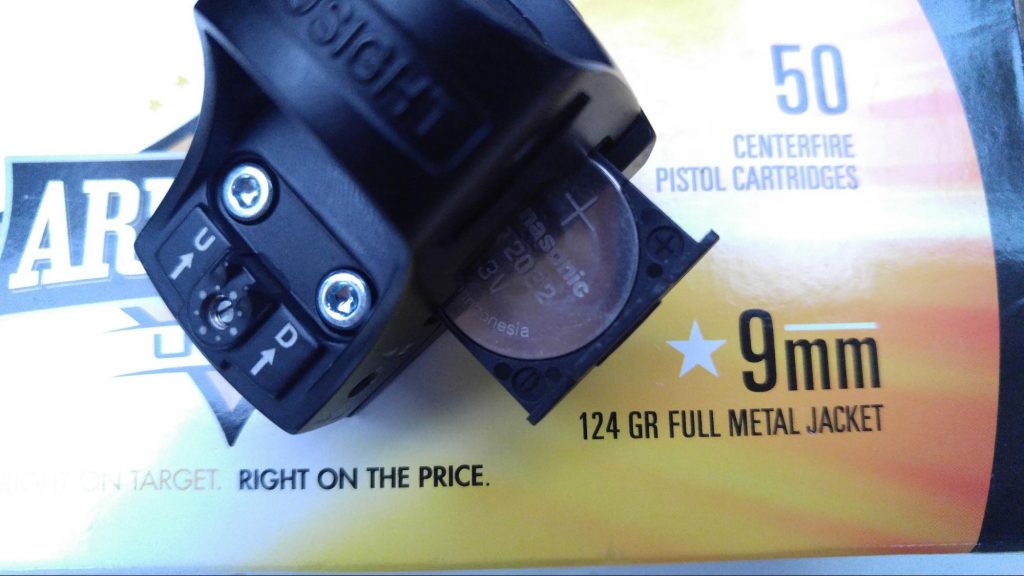 A lot of optics force the user to remove the battery from under the optic. This means removing the optic from the gun and then from the mount. This is a major inconvenience when it comes to swapping batteries. With the Meosight it simply isn't an issue.

The Meosight is equipped with a 3-hour auto off time. If the front button isn't pressed it will shut off. This is one of those features some will love and some will hate. I guess there could be a situation where you are in a firefight for more than three hours, but you're either a cop, a soldier, or the world has ended.

I like this as a feature because I suck at remembering to turn dots off. So it's liable to be used, abused, and put in the safe still on. It's nice I don't have to worry about killing expensive batteries.

Through the Looking Glass
The glass is painfully clear with almost no tint. The viewing window is somewhat small, but with both eyes opened, it doesn't really make a big difference. It puts a red dot over your vision and superimposes it on whatever you are looking at.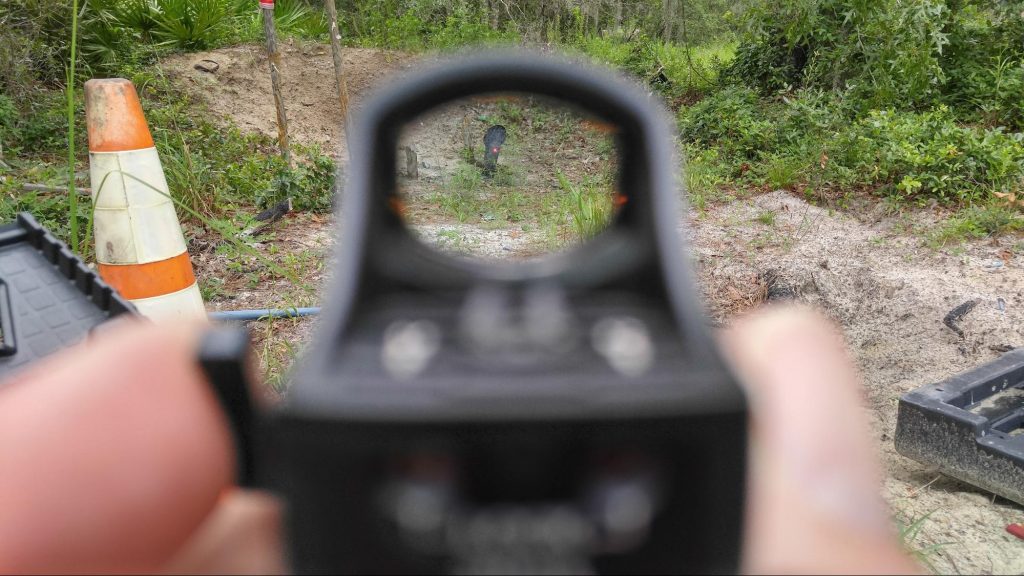 Adjustments are easy and all you need is a small flat head screwdriver. The adjustment screws do lock, and the locks can be unlocked with the same flathead screwdriver. Make adjustments are stupid simple, and it takes all of two minutes to zero the red dot. (I know because I've used it on multiple guns.)

Range Time Pain Time

I initially got the Meopta Meosight 3 as a mini red dot for my Mossberg Shockwave, assuming it would fit the little 12 gauge. The Shockwave is a handful, and a force to be reckoned with. It's not the easiest gun to shoot due to the lack of a stock.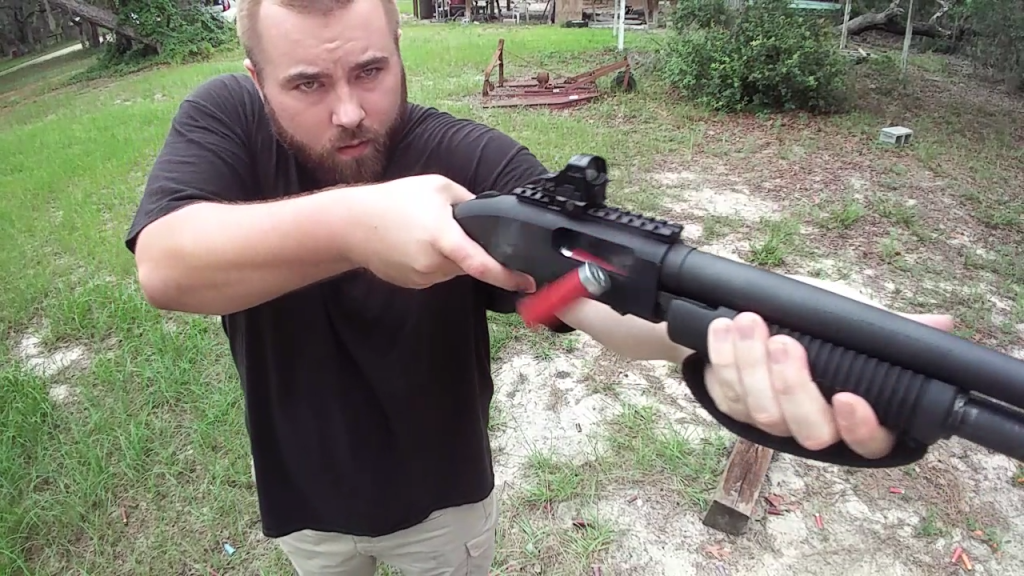 Once I tossed the Meosight 3 on I noticed aiming and shooting it was immediately much easier. I could place buckshot wherever I wanted it with ease. The biggest difference was with slugs. I had a real hard time hitting anything with slugs beyond 20 yards. With the Meopta Meosight 3 equipped I could ring my steel target at 35 yards in the standing position easily. Previously I was having a lot of trouble being precise with slugs, and the Meosight cleared that problem right up.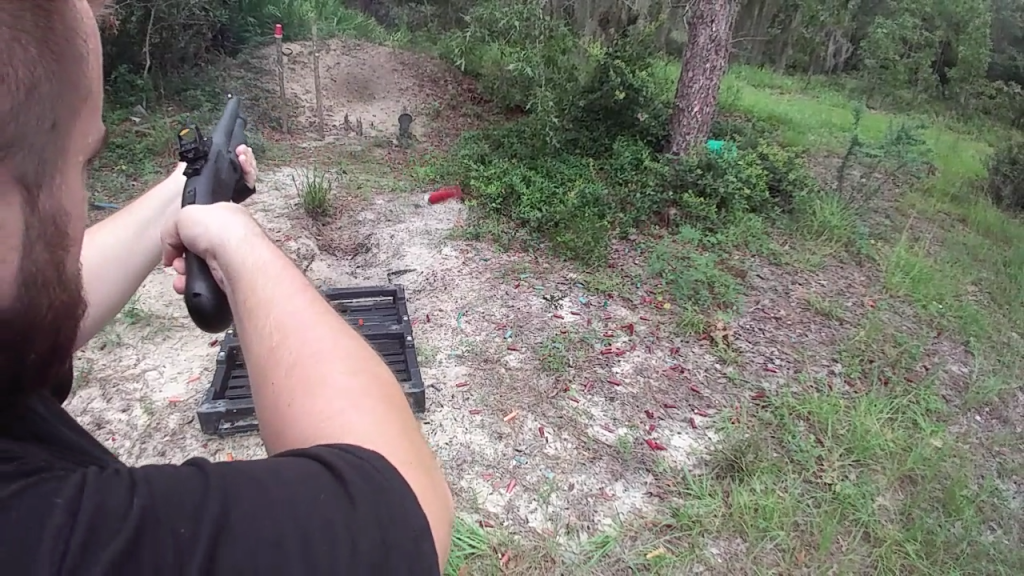 After seeing how useful and helpful the Meosight 3 was with the Shockwave I moved it to the Tristar Tec 12. This Semi auto/pump shotgun is a new addition to the safe and I've fallen in love with it. The gun comes from the factory with a nice set of sights and a rail so I plopped the Meosight 3 on it.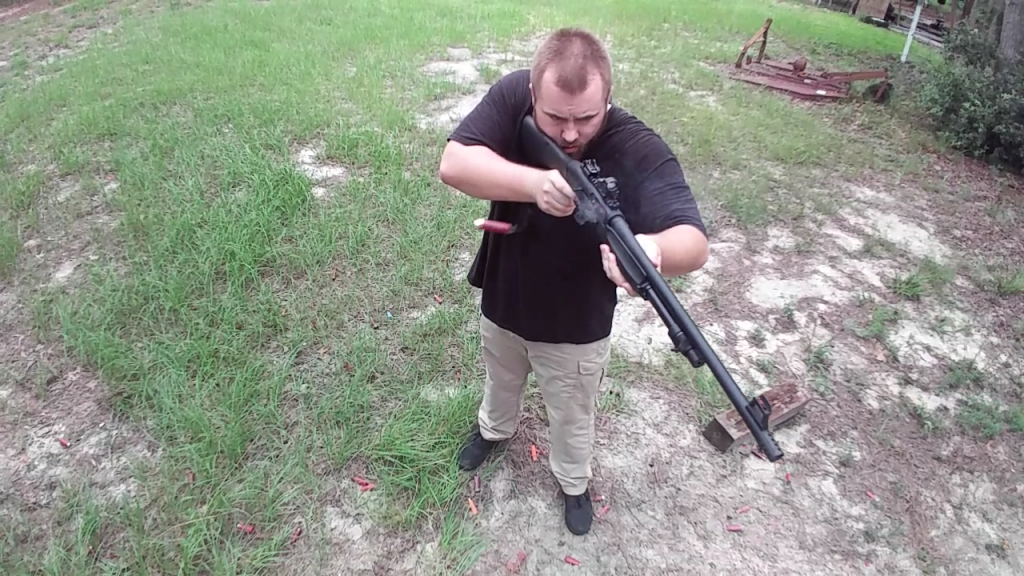 Once it was on a proper shotgun I could really appreciate the real world value of a mini red dot on a shotgun. They fit hand in hand with the shotgun being a close range weapon and the miniature red dot being a close range optic. It made getting on target faster, and more accurate. It sped up my transitions from target to target and made hitting small targets rapidly easy to do.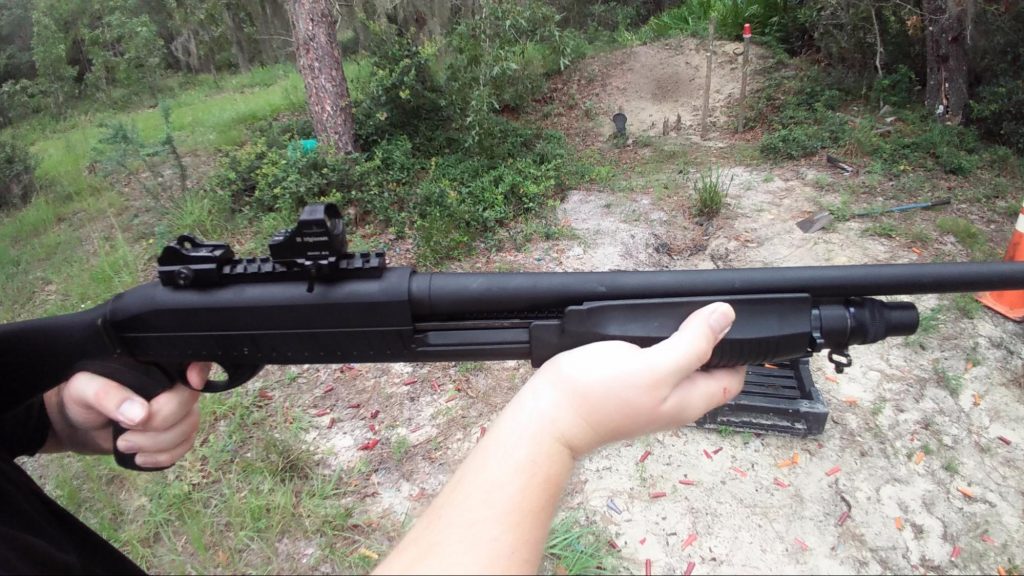 To break up the monotony of running shotguns I slapped this optic on my CZ Scorpion 9mm carbine and went to work. I backed off to 50 yards and range a 21-inch steel popper with ease. Even hitting small targets like clay pigeons was pretty simple. The Meosight is a natural fit on a pistol caliber carbine due to their close range limitations.  I zeroed the optic from gun to gun in just a few minutes.  

Cold Range
Overall I'm impressed. I've had the optic for almost two months and it's seen the fierce recoil of 12 gauge slugs to the pleasant pop of 9mm without giving me a hassle. The Meopta Meosight 3 lightweight, easy to use, and is intuitive. I give it my hearty recommendation.
FFL Insider Report

Free Report by

Brandon L Maddox

FFL industry expert

Interactive Map

Endorsed by

The Gun Digest has received many inquiries related to your product offering... Brandon, you have a great product that works as advertised and provides an excellent value and service...you will soon see a write-up on my editor's colmn reflecting this feedback.

Senior Editor, Click here to read the full review Click here to read the full review

Popular Blog Articles

The Mossberg Shockwave is not a shotgun technically, but it revitalized the shotgun industry

If there is anyone out there, who has caused as much grief fo

The Mossberg Shockwave has both revived and created an entirely new portion of the firearms